You'll be crunchy with this new crust at Pizza Hut! Filled with cheese and sprinkled with Lay's crisp crumbs mixed with grated cheddar cheese, Lay's Crunchy Cheezy Crust makes its first European appearance in France!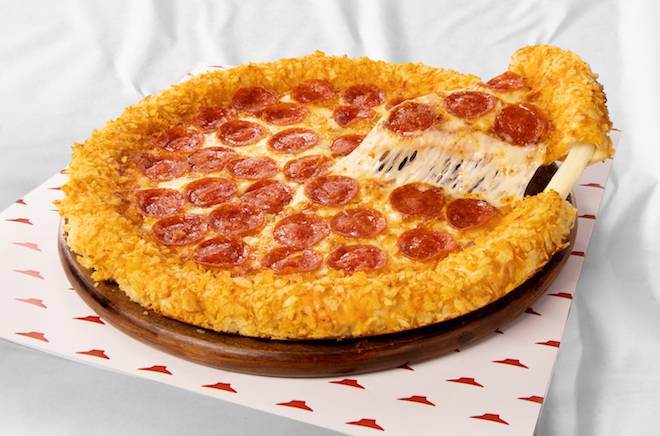 Pizza Hut unveils a new ultra-crispy crust with Lay's chips! Credit: DR
See also
Attention, what follows is very food porn and it is unpublished in France. Pizza Hut knows no routine. This restaurant chain specializing in pizza never ceases to amaze and make us salivate. With its recipes for 80 slices of pepperoni or even pizzas almost a meter long, there is no denying that the uniqueness of Pizza Hut is indeed its originality. It is for this reason that the brand continues to innovate to please your taste buds. And the news that follows, it will inevitably make them crisp with pleasure.
Imported straight from our friends Pizza Hut Latin America, the Crunchy Cheezy Crust Lay's finally arrives in Europe. And more precisely, in France! A melting, crispy and ultra-ultra-gourmet exclusivity! To put it simply, this unique crust is topped with cheese then sprinkled with a mixture of Lay's crisp crumbs and shredded cheddar cheese. We warned you: it's all very food porn… In limited edition, the Crunchy Cheezy Crust Lay's is now available at Pizza Hut France! You know what you have left to do.
Fondant and crispy, discover the Crunchy Cheezy Crust Lay's at Pizza Hut!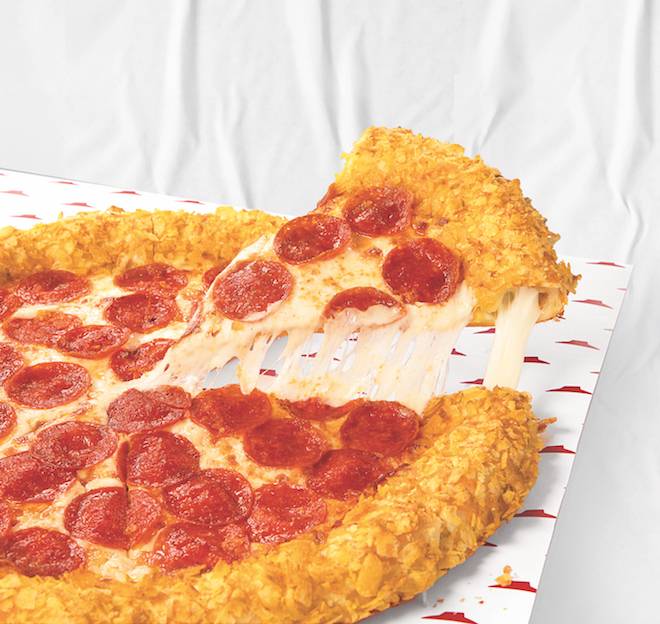 Devour Crunchy Cheezy Crust Lay's, the exclusive novelty at Pizza Hut! Credit: DR
To pimp up your next Margherita, Pepperoni Lovers or Chèvre Miel at Pizza Hut, order your pizza with this completely decadent new crust! Level of food porn? At most, clearly. But how is Crunchy Cheezy Crust Lay's made? With a special hand-stretched pizza dough, a mixture of melting cheese is placed all around before being covered with the edge of the dough. A method that Pizza Hut has not changed since its creation in 1995.
What changes for this new recipe is indeed the addition of crisp crumbs on top. Lay's Nature chips are crushed in their bag until they become "mini-chips" to which Pizza Hut will incorporate grated cheddar cheese. This preparation is then sprinkled on the crust of the Cheezy Crust. The chosen filling is finally placed in the middle, a little turn in the oven (6 to 7 minutes at 230°C) and voila, it's ready!
How to order Crunchy Cheezy Crust Lay's?
Go to Pizza Hut, choose the recipe you want, then select the "Crunchy Cheezy Crust Lay's" option and simply enjoy! For 4 euros more, all Pizza Hut recipes can be accompanied by this unique crispy crust. Available since Tuesday April 5, it will remain on the menu until September 5. You will therefore have time to test all the pizzas with Crunchy Cheezy Crust Lay's!